November is coming to a close, but I haven't talked about these three books yet!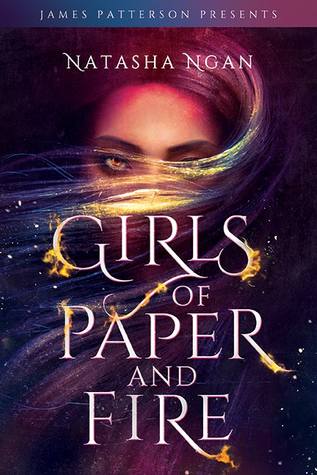 Title: Girls of Paper and Fire (Girls of Paper and Fire, #1)
Author: Natasha Ngan
Publisher: Jimmy Patterson Books
Release Date: November 6th, 2018!
My Review!
This is a quiet book. Not only for being quiet on the action, but quiet in its breathtaking quality. It took me a little bit to get hooked into it, but boy, it was so worth the wait. At the center of it is a girl trying to take back control of her life. Lei is forced in service as one of the concubines to a demon king, and no thank you very much. She would rather burn in hell. She is stubborn and willful, and she will not be told to be silenced. She goes through some AWFUL shit, and she's suffering from PTSD after attempted rape from the said king. (Which I was SO happy wasn't just brushed aside as it can be in fantasy books especially; Lei's pain felt very real). But through it all, she's got someone in her corner: Wren, another concubine, one who is fierce and beautiful and carrying secrets that make Lei a part of a revolution she hadn't asked for. But she has strong morals, and a homesickness for her village and her papa, and she just wants to go home. So she does whatever it takes to survive. It was that fire of hers that made me root for her SO hard. Girls of Paper and Fire is a story about one girl's determination to find agency in a life where she's only good for one thing, with a passionate and slow-burning f/f romance at the heart of it that will make you sigh with aching.
Rating: 4.5 Paw Prints!



Title: Little White Lies
Author: Jennifer Lynn Barnes
Publisher: Freeform
Release Date: November 6th, 2018!
My Review!
Jennifer Lynn Barnes has quickly become one of my all-time fave authors. I inhaled The Naturals series back in September, and I lovedloved The Fixer books. So I knew I needed to pick this up at ALA annual (and I got to meet Jennifer too, which was amazing!). And omg this book was SO FREAKING GOOD!! I buddy read it with a friend of mine, and we were freaking out over the drama and how interconnected everything is. As like with all her stuff, the mystery is very intricate, and the way that she unravels it is just
brilliant
. This is less a thriller and more a wild ride of one girl finding out her true parentage and the devastation it brings. It was really light on romance, and I quite liked that. (I read Sawyer as on the ace spectrum, but I could be wrong). So my favorite part was the *tentative* friendships formed between the girls and the boys, and the very southern setting. It was fantastic, and I'm seriously dying for a sequel. Someone told me there would be one, but I haven't heard anything about it, and I MUST KNOW WHAT COMES NEXT, JENNIFER!!
Rating: 4 Paw Prints!



Title: Outrun the Wind
Author: Elizabeth Tammi
Publisher: Flux
Release Date: November 27th, 2018!
*eARC kindly provided by
North Star Editions via NetGalley*
Find it on

Goodreads

.
My Review!
Oh man, I really liked this! There were a few points in the middle there that bored me a bit, and there wasn't a whole lot actually happening. But that ending completely took me by surprise, and I was SO glad that it was happy and satisfying. Atalanta and Kahina were two girls who just wanted to take control of their own futures, but what they didn't expect was to fall in love with each other along the way. Their romance was sweet and soft (though neither of them are really sweet and soft, hahaha), and it had time to develop over the course of Atalanta's races to get her suitors out of her life. I also really adored Phelix, Atalanta's brother, and his relationships with the both of them. And Nikoleta and Isidora! I wish there'd been more of the huntresses, honestly, but that last fight with Apollo and his priestesses was super awesome. I knew I had to read this when I heard it was an f/f retelling of the famous Atalanta's story, and I enjoyed it very much! I'm always here for authors who spin the Greek myths on their heads and make them queer. :D
Rating: 3.5 Paw Prints!