It's time to talk about season two by sharing more of my favorite episodes, YAY!! (I tried to give credit where credit is due, so hopefully no one gets mad at me! eep)
10. Chocolate Milk (episode 2)
Except for the part where Terry says he's a Ross-head (why you gotta hurt me like that, Terry?). I loved that Jake wanted to be more than a work friend to Terry, and that Terry realized that he could be. Sometimes it's hard to know when that boundary gets crossed, or if you want it to happen. And it was a little sad to hear Terry be like, nah, you're not that kind of friend to Jake. Because while Jake can be an utter goofball and selfish, he cares so much about his friends. And he pays attention to them! He knows all their quirks and hobbies and dreams, and he loves them. He may mess up sometimes, but his heart is always in the right place.
9.
AC/DC (episode 20)
Jake gets hurt, and he's forced to realize with the help of Terry that sometimes you just need a break. You need to take care of yourself and put yourself first every so often. And I love the mixing of personal and professional going on with Diaz and Holt. This is something that grows as the seasons go on, for all of them, and Holt becomes more than just a captain, especially to Jake. Also Gina and Amy get wasted together, and I love their hate-to-be-your-friend-but-I-actually-do-care-about-you relationship. :D
8.
The Pontiac Bandit Returns (episode 10)
*

source credit

*
I just love the hate-to-friendship thing happening with Doug Judy and Jake. I think the episodes with him get better and better too, in later seasons.
7.
Winderbreaker City (episode 15)
This episode is when the Nine-Nine turns on the bad guys AND the good guys in a simulation against federal agencies. Who said the NYPD isn't as badass as they are? Jake was like fuck this, but he didn't win in the end because he was so stupid. haha. But I loved it!
6.
The Road Trip (episode 9)
*

source credit

*
Okay, guys, don't hate me. BUT I really loved Jake and Sophia together. There was something about them that just clicked for me (maybe it was that little hate-to-love tension when it came to him being a cop and her being an attorney). Whatever the case, I enjoyed the hell out of their short romance, especially in this episode. The fucking dolls! omg. This also brings out the Jake and Amy angle, effectively ending her and Teddy, and fucking with Jake's new relationship for a hot minute. Nothing happens between the two of them, but *sings* it's going toooooo.
5.
Boyle-Linetti Wedding (episode 17)
*

source credit

*
Quite a few things go wrong, and there were near-misses, but Amy got her bad guy. Holt's speech and his happiness with Kevin is just so genuine. I love that Terry loves love. Rosa gets her man. Jake missed out on Jenny Gildenhorn, but whatever, he'll realize Amy's the perfect match for him in later seasons. And this wedding in general was so cute. I love how much Gina and Boyle love their parents and want them to be happy. It's got so many emotional moments, but it's also funny. The best of both worlds.
4.
The Jimmy Jab Games (episode 3)
*

source credit

*
Another competition episode, because like I said, I fucking love them. The Jimmy Jab games are stupid and hilarious, and the squad got in hella trouble once the bosses returned. Hahaha! But this is when Jake finally admits that he's still into Amy! And I loved how much flirting was going on between the two of them during the match. :D
3.
Beach House (episode 11)
I, too, would feel the need to invite Holt, even though he's the boss. He had to miss out on so much because of his shitty coworkers in the past, and he just wanted to be part of the group, to be
one
of them. But I also feel for the squad, because they just wanted to relax and felt like they couldn't because he was around. I HATED Jake's plan, and how hurtful it was, but I'm so glad that it ended the way it did. "Real Ray or fake Ray?" Perfect game to top off the first day of vacation! Also, Vacation Terry and his fanny-pack is my favorite.
2.
Halloween II

(episode 4)
*

gif credit: LP Entertainment/Pure Fandom

*
This Halloween episode was EVEN BETTER than the previous one. You think you're rooting for Jake and wanting him to succeed, and then you find out that he's been played so well from the very beginning, and you're like YESSSSSSS. *fist pump*
1.
Johnny and Dora (episode 23)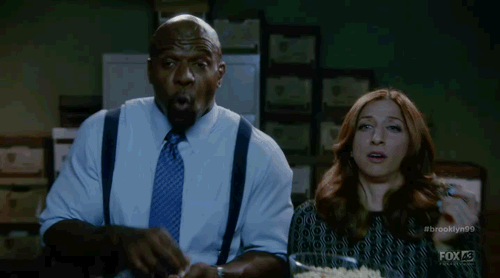 *

gif credit

*
Charles helping plan a surprise birthday for Rosa. Jake and Amy being pretend engaged for a job and ending up KISSING!! SUCH GOOD KISSING. I'm TELL ME EVERYTHING Charles in this scenario. And I'm going to start using grackle as an insult from now on, thank you. But the real part that got to me was the ending.
"
These have been the best years of my career. And I know that every one of you gave me everything you had, and I will never forget it." MY HEART. MY FEELINGS. MEEP MORP. ZEET. Gah, why is Jake and Holt's relationship my favorite? AND THEN THERE'S EVEN MORE JAKE AND AMY KISSING GOING ON. WOO, BEST EPISODE.
What episodes of season 2 are YOUR favorite? Would any of these make your list? Let's talk! :)