There are some books I forgot to talk about! BECAUSE I JUST FORGET DUE TO LIFE. So here are a few damned good stories I read this year that you also need to read. Just trust me on these ones, okay? 😁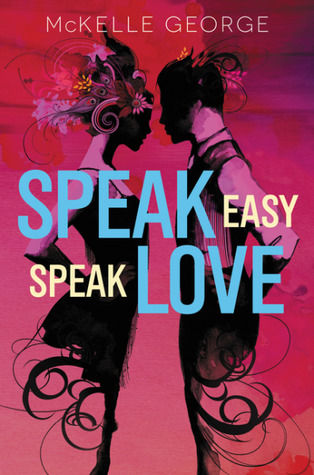 Title: Speak Easy, Speak Love
Author: McKelle George
Publisher: Greenwillow Books
Release Date: September 19th, 2017!
Find it on

Goodreads

.
My Review!
I ADORED this book! I'd read another retelling of Much Ado About Nothing not too long before I read this one. And I'm going to compare the two because they are different styles and both of which have appealing qualities. But this one just climbed its way into my heart and wouldn't let me go. A big part of the reason this one just worked for me was the setting! I mean, the 1920s prohibition era? YES PLEASE. I love that historical time period. I thought the mix of it + this kids being part of a bootlegging operation and bar was really interesting. And another part of the reason was the characters themselves. I loved them all so much. I DID ship a secondary couple way more than the actual MCs, Beatrice and Benedick, but I still liked these two as well. And I just adored the banter and friendship between all of them. They were seriously what made this book so fantastic! Also fun fact, I've never actually read Much Ado, but I'm here for any and all Shakespeare retellings. :D
Rating: 4.5 Paw Prints!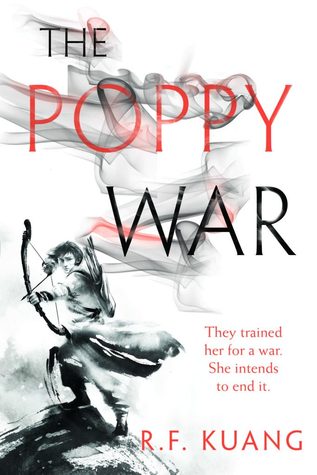 Title: The Poppy War (The Poppy War, #1)
Author: R.F. Kuang
Publisher: Harper Voyager
Release Date: May 1st, 2018!
My Review!
This was a dark, dark book. And I like dark books; in fact, I quite love them, especially if they have characters who constantly toe the morally gray lines in life. The Poppy War was no exception. From start to end, this book is hard-hitting, challenging, and full of the gory and gruesome. But it is never in sensationalized. It is just… the simple truth of war and bad people and good people who do bad things when they aren't going to be tried for them. It is what happens when you strip away humanity. Our main character, Rin, is beaten and pushed and honed in as a weapon because of her school and the teachers. They were preparing for another poppy war, even when everyone said it was done. That it was over. But war is never over, and throughout this story, the author takes you on a journey. And for such a long and thick book, it did not go that slowly for me. I was pretty hooked, and I was a fan of the character relationships. The friendship between Rin and Kitay, and the mentorship between her and Jiang in particular. And of Rin herself, a wildly ambitious and cunning girl who just wanted to carve out a space for herself in this brutal world. Also praise to the author for making me want to vomit. I don't think I've *ever* felt that way reading a book (and if you've read this too, I'm sure you know the exact chapter/scene). It is definitely not a light, breezy read. But it was SO DAMNED GOOD, and I'm eagerly anticipating the sequel!
Rating: 4 Paw Prints!
Title: Dance of Thieves (Dance of Thieves, #1)
Author: Mary E. Pearson
Publisher: Henry Holt and Co. (BYR)
Release Date: August 7th, 2018!
My Review!
You always hope that a new addition to a favorite series is going to top the previous books, and while this one DIDN'T (sadly), I loved it still. The Remnant Chronicles has been one of my favorite worlds for years, and I loved getting more of it. I loved the cameos of my faves (MY FOREVER AND ALWAYS QUEEN LIA), and I loved the focus on a different part of this post-apocalyptic fantasy. I also really adored the new characters. Kazi and Jase, in particular, are the two POVs. And their relationship gets a jumpstart, but it's so fraught with peril and stubborn anger and the fact that each of them is lying about things. MY WEAKNESS. I really liked the new secondary characters too, and the way that the plot was interwoven between all the different kingdoms and places. But yeah, I don't remember *a lot* about this? And it's been quite a few months. So you can bet I'll be rereading Dance of Thieves before the sequel comes out, and it'll be worth it because I can't give up this world.
Rating: 4 Paw Prints!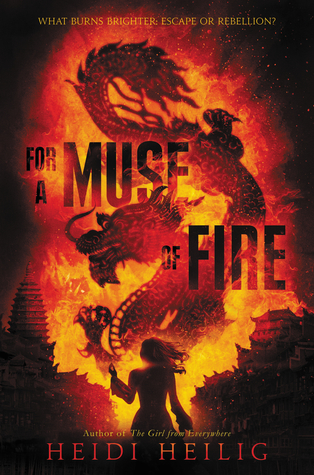 Title: For a Muse of Fire (For a Muse of Fire, #1)
Author: Heidi Heilig
Publisher: Greenwillow Books
Release Date: September 25th, 2018!
My Review!
I was hoping to write a full review for this one, because I loved it SO MUCH, but that's not going to happen. It is, however, one of the best fantasies I've read. I loved the combination of music and scripts with Jetta's POV. I loved that Jetta's bipolar disorder was present, but not the only part of her. (And I know some people might not agree with how mental illness is used here, but I could fully understand and relate to Jetta wanting to get rid of it and be free of her malheur, as they call it). I loved how immersed I felt in the fantasy, and how there was so much more going on than anyone expects. And I adored the characters, and their relationships with one another. I loved the way that her and her parents loved each other, so completely, and without a care for the world. I loved Leo, and how Jetta forms a friendship with him based on trust and a tentative romance. Really, I just loved so many aspects to this, and while I don't think it's PERFECT, per se, it's one of my favorite reads of 2018.
Rating: 5 Paw Prints!