It's time to talk about some January books I read in 2018!
Title: The Cold Is in Her Bones
Author: Peternelle van Arsdale
Publisher:
Margaret K. McElderry Books
Release Date:

January 22nd, 2019

!
*eARC kindly provided by Simon and Schuster Children's Publishing via NetGalley*
Find it on

Goodreads

.
My Review!
I'm still not quite sure what to make of this one. It was interesting and weird and inspired by the Medusa myth (which YESSS), but I honestly couldn't tell you much about it now. It didn't leave a big impression on me. And not a whole lot happened in it. It was basically a story about a girl who's afraid she's becoming a demon, something feared by her village, and leaves to rescue a friend who has been taken (on the guise that she's been possessed by a demon). But not everything is as it seems, and Milla doesn't know quite who to trust, even herself. It's short and fast-paced, but is it worth the read? That's what I don't know how to answer. HMM.
Rating: 2.5 Paw Prints!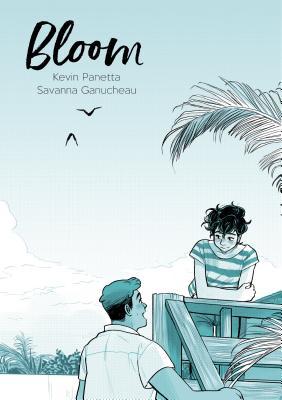 Title: Bloom
Author: Kevin Panetta
Publisher: First Second
Release Date:

January 29th, 2019

!
*Physical ARC kindly provided by Macmillan*
My Review!
I wish the main relationship had been developed way more than it was. Because for a graphic novel that was over 300 pages, there sure wasn't a lot of Ari and Hector (I mean, there was a lot of baking, but not a lot of talking and learning who the other is). I could have done without the music scene part of Ari's storyline, but I could understand why it was there, and how torn he felt and how he didn't even know what he wanted yet. That's something that so many teens can relate to, especially when they're out of high school. But yeah, it didn't dig deep enough for me. I wanted more from both Hector's and Ari's characters, and from their romance. The artwork was so lovely though, and I'm always a fan of books with a strong baking plot. :D
Rating 3 Paw Prints!



Title: In an Absent Dream (Wayward Children, #4)
Author: Seanan McGuire
Publisher: Tor.com
Release Date: January 8th, 2019!
*I picked up a physical ARC at ALA Annual 2018.
Find it on

Goodreads

.
My Review!
A cautionary tale about a girl who asked for more than she was willing to give and broke the rules. (was Lundy in the first book? Gah, I can't remember. I feel like I recognize her, though). Anyway, it's not my favorite of the bunch. Because of the amount of trips Lundy takes to the Goblin Market, you don't get to see everything that happens, don't get to see the friendship between her and Moon really develop, if one could even call it a friendship. You don't get to truly see how much Lundy comes to think of it as home and not the world in which she's constantly leaving behind a family who loves her even when they don't understand her. Lundy; quiet, cautious, sensible Lundy made a bargain she never asked for and lost herself. It's a sad tale. A little longer than the rest of them, but less impactful to me. I can't wait for the rest of them, though. I love, love, love these stories of falling through doors to the places your heart settles because it's right and yours. They're reminiscent of what childhood feels like and the magic I loved reading about when I was younger.
Rating: 3.5 Paw Prints!



Title: Our Year of Maybe
Author: Rachel Lynn Solomon
Publisher: Simon Pulse
Release Date: January 15th, 2019!
*eARC kindly provided by Simon and Schuster Children's Publishing via NetGalley*
My Review!
I thought I was going to write a long review about this book, but I don't want to. Not because I didn't love it, but because I don't have a lot to say. It was REALLY GOOD. I still loved her debut more, but man, Rachel is quickly becoming a favorite author of mine. She is amazing at writing realistic teenage experiences and relationships. She gets how complicated they are, how world-ending they seem at that age, and the ways in which we all mess up. It was hard to read at times, because of Sophie. Her love for Peter is obsessive to a high level, and he's all she thinks about, and it's almost to the point of being unrequited. Because Peter's got so much angst about it, and about her donating her kidney for him, because he doesn't know if he quite feels the same for her. So he's trying to figure himself out too, and their relationship quickly sharpens into something neither of them can really understand anymore. But that's okay, because that happens in life.
Especially
when you're young. I loved that this book didn't shy away from the darker parts of love and friendship, and how it also tackled the happiness and guilt that can come from something massive like organ donation. Plus, it's so sex-positive, queer-positive (Peter is bi!), and they both had a lot of growth as characters. I ADORED it!
Rating: 4 Paw Prints!