I'm so INCREDIBLY excited to be on the blog tour for Roshani's latest book. Not only is she one of my FAVES, but I adored The Gilded Wolves when I read it last August. And I can't wait for more of this series!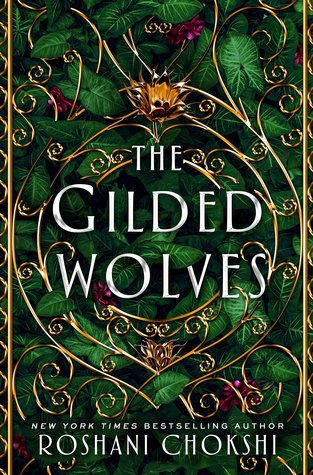 Title: The Gilded Wolves (The Gilded Wolves, #1)
Author: Roshani Chokshi
Publisher: Wednesday Books
Release Date: January 15th, 2019!
Set in a darkly glamorous world, The Gilded Wolves is full of mystery, decadence, and dangerous but thrilling adventure.
Paris, 1889: The world is on the cusp of industry and power, and the Exposition Universelle has breathed new life into the streets and dredged up ancient secrets. In this city, no one keeps tabs on secrets better than treasure-hunter and wealthy hotelier, Séverin Montagnet-Alarie. But when the all-powerful society, the Order of Babel, seeks him out for help, Séverin is offered a treasure that he never imagined: his true inheritance.
To find the ancient artifact the Order seeks, Séverin will need help from a band of experts: An engineer with a debt to pay. A historian who can't yet go home. A dancer with a sinister past. And a brother in all but blood, who might care too much.
Together, they'll have to use their wits and knowledge to hunt the artifact through the dark and glittering heart of Paris. What they find might change the world, but only if they can stay alive.
My Review!
Roshani Chokshi is one of my forever favorite authors, and I'd been waiting for this one ever since the announcement. So when I got a copy of the book, I couldn't NOT start it. And omg, I already want to reread it. Both because it was hard to catch things the first time around (I always miss important stuff!), and because I loved it *so* much. It was SO FREAKING GOOD. It's a fantasy people are going to get OBSESSED with, mark my words. And honestly, it's mostly because of these six characters!
Séverin is my darling grumpy, stubborn, and angry boy who just wants to get his House restored. He grew up in a very different environment than most people, and it wasn't always good or warm or affectionate. He's so set on his self-destructiveness sometimes that he lets it affect his relationships with people. But he's so determined to win back his inheritance, even at the cost of other people and himself.
Laila is MY QUEEN. I want to leave it at that, but I probably shouldn't (and also it's going to bother me if I don't write just as much about her as the others). Laila is a force to be reckoned with. She is fierce and strong-willed, and she loves to bake as a way to comfort her friends. And she refuses to take anything less than she deserves. But she misses her home and her heritage, and maybe Paris isn't enough anymore.
Hypnos is the outsider, the one that the group doesn't like very much. Or in Séverin's case, hates. But he is an important player in this game, and he's willing to help Séverin even if it's not out of the goodness of his heart. Because he's just so lonely, guys. He wants friends. He wants to be a part of them. He tries to play it off that he doesn't care, but he does, SO MUCH. He's my confident, best-dressed baby, and I love him.
Enrique is not a quiet character, but he's the one who seems to just sneak up on you. He's brilliant and bright (and bisexual!), but he's also trying to figure out who he is in all of this. And what he wants to stand up for. He adores Zofia, and Hypnos intrigues him, and Enrique is just torn between how he thinks of himself and of who he wants to be. But he matters so much to this group, and he fits in with them.
Zofia is the most precious character EVER. omg I love her so much. She's an engineer and very into the puzzles and search, and she geeks out over science and math. She's so intelligent and beautiful, and she just wants to be there for her friends even when she doesn't understand how to be. I thought she was on the autism spectrum, and it was confirmed. It made her that much more endearing to me. MY FAVE.
Tristan is the one who doesn't have a POV, if I'm remembering correctly, but he's still a big part of the group. He and Séverin grew up together, and it's that connection that makes Tyler the one who knows Séverin the best. (Even more so than Laila, although she understands him better). He is a sweet, soft boy who just loves his gigantic tarantula. *shudders* But he's got more behind his smile than anyone realizes.
This really was a decadent adventure from start to finish. Just like with all Roshani's books, I needed to sink in and let myself be absorbed, and while some of the puzzle parts (and the big fight) confused me, I loved the National Treasure-esque vibe to it. And the relationships between the characters? Oh ho ho, I have so much adoration of them all, and I loved seeing who they are to each other. Found families are the BEST families. *heart eyes for days* The Gilded Wolves had everything I love in a story.
Thanks to Wednesday Books, I've got a giveaway for y'all! One lucky winner will received a finished copy of the book. :D (US only, sorry!)