I had hoped to read more of my February ARCs, but things just were kind of BLAH and I ended up not reading much. But here are two books that you should absolutely pick up if you haven't already!
Title: The Past and Other Things That Should Stay Buried
Author: Shaun David Hutchinson
Publisher: Simon Pulse
Release Date: February 19th, 2019!
*eARC kindly provided by Simon and Schuster Children's Publishing via NetGalley*
Find it on

Goodreads

.
My Review!
Oof, this one got to me. IT'S VERY RUDE to read lines like, "it's not that I feel I have nothing to say, it's that what I have to say rarely feels valuable" and the conversations about grief, because of how uncanny it was that they resembled my feelings and life. But also this was such a bittersweet story focused on the friendship between the two main characters, Dino and July. It showed how complicated those relationships can be, but how full of joy and love they are. The two of them made many mistakes, fought when they should've been there to support and understand, but had this deeply-felt bond that not even death could destroy. July was actually a pretty unlikable person, but I felt for her, and I definitely think her tendency toward refusing to give people the real her was well-done, and she grew a lot in that short time. I thought this book was gonna get weirder, so I was pleasantly surprised with how the author dealt with July coming back to life. I also really liked all of the secondary characters, and if there's one thing I wished for, it was more of THEM. (But I get why it wasn't). And I liked how this didn't just revolve around fixing July's not-death, but about trying to figure out who you are and what you want out of life, and learning what it means to let go of someone you love. Super enjoyed!!
Rating: 4 Paw Prints!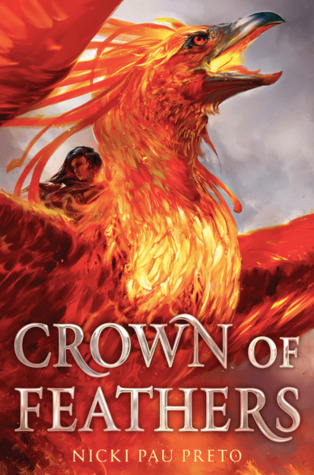 Title: Crown of Feathers (Crown of Feathers, #1)
Author: Nicki Pau Preto
Publisher: Simon Pulse
Release Date: February 12th, 2019!
*eARC kindly provided by Simon and Schuster Children's Publishing via NetGalley*
My Review!
This was SUCH a good book! I wouldn't be surprised if people DNF just because it's pretty slow. Which doesn't necessarily mean I was bored, but that sometimes the world-building was Too Much. I wanted to learn everything I could about Phoenix Riders and the empires, though, it was just hard to keep everything straight. And anyway, I can see a lot of people getting bogged down in the details. But I really enjoyed the historical snippets, the conversations, the mystery behind what happened way back when. When two very different sisters started a war they couldn't end. I'm a SUCKER for sibling stories, especially if it involves sisters, and I loved how Crown of Feathers explored that kind of relationship. The push-and-pull, the hate and love, the way that sometimes family isn't enough, and trying to reconcile your feelings when the person you love is so toxic that you can't stand to be around them. But you still love them. Veronyka had to leave her sister just to figure out who she was and go after her dreams. I loved seeing her come into her own and fight for what she wanted. There was like no actual romance, but I see how they'll play out in the sequel, and I'm excited! I adored Nyk and Tristan and even Sev. I wasn't expecting 3 POVs, but it worked, and I'm so invested in their stories! I can't wait for more!
Rating: 4.5 Paw Prints!