I'm STOKED to be on the blog tour for the one and only Wicked Saints. I'd hungered for this book ever since the announcement, and I fucking LOVED it. And I'm already dying for the sequel. giveittomenow.gif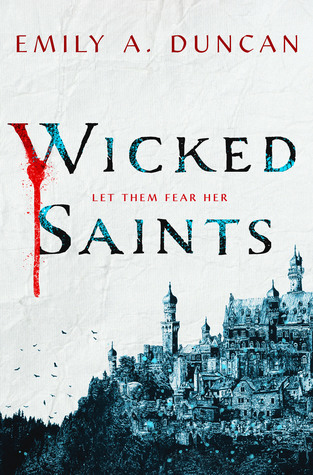 Title: Wicked Saints (Something Dark and Holy, #1)
Author: Emily A. Duncan
Publisher: Wednesday Books
Release Date: April 2nd, 2019!
*eARC kindly provided by Wednesday Books via NetGalley*
"Prepare for a snow-frosted, blood-drenched fairy tale where the monsters steal your heart and love ends up being the nightmare." - Roshani Chokshi, New York Times bestselling author of The Star-Touched Queen
A girl who can speak to gods must save her people without destroying herself.
A prince in danger must decide who to trust.
A boy with a monstrous secret waits in the wings.
Together, they must assassinate the king and stop the war.
In a centuries-long war where beauty and brutality meet, their three paths entwine in a shadowy world of spilled blood and mysterious saints, where a forbidden romance threatens to tip the scales between dark and light. Wicked Saints is the thrilling start to Emily A. Duncan's devastatingly Gothic Something Dark and Holy trilogy.
"This book destroyed me and I adored it."- Stephanie Garber, New York Times bestselling author of Caraval
My Review!
You ever like build up a book so much in your head that when you finally read it, you kind of don't even know what to think? Not in a bad way, just in a way where you have to sit on the book and your feelings because there is just so much going on, and you've wanted it for SO long that you almost can't believe you even read it? Yeah, that's where I'm at here with
Wicked Saints
. It feels like I've been waiting literally forever for this book, because I've been following Emily since it was announced. And she posts about it ALL THE TIME that I already felt like I knew the characters and the story, and it made me
hunger
for it. So this book felt almost like coming home, in a way. It felt like reading about people I've known and loved all this time,
this unholy trio who dares defy gods
.
Nadya:
willing to risk the gods' disapproval and anger to save people she cares about, Not Here For Your Heresy, can't stop won't stop calling Malachiasz in particular a heretic, is a bit self-righteous but who wouldn't be when the gods only choose to listen to you, not afraid to fuck shit up and punch people (re: Malachiasz) when they prove distrustful. She's also not afraid of her feelings, and she spends a lot of time in the book seeing how far she can go before she hates herself. It's something about her that I loved, because here was this girl who had such a weight on her shoulders but who still chose the hard way out, who still fought for what she believed in. Even if those beliefs started shattering the moment her monastery was destroyed.
Malachiasz:
smiles a lot more than I was expecting to be honest, offers girls jackets in the cold, fluent in sarcasm, a Tranavian abomination who has no business invading Kalyazin, has no problems lying and manipulating, turns into a monster when he's fighting his own kind, would prefer you think him cold and uncaring rather than a boy who just wants to stop a war and take back control of his life. *flails because Malachiasz is a disaster* and he [REDACTED], [REDACTED], and [REDACTED]!!! I'm not sure what to THINK about him, but I do know that love villains, and I'm so ready to see just how far he goes before he can't find his way back to himself. And to his people. *screams because ALL THE FEELINGS! but spoilers!*
Serefin:
not actually a cinnamon roll prince omg, would rather be anywhere than his family's palace, drinks too much, hates showing his weaknesses, is self-deprecating but has a charming wit, loathes his father, wishes people would take him seriously even when he won't do it for himself, probably better at blood magic than you are, my precious queer boy. You get so many glimpses of Serefin as the book progresses, from the bloodthirsty general to the playboy prince to the drunk who can't seem to stop getting himself into situations that Sober Serefin would yell about to the son of a bastard king who only cares about keeping his power. He's got pain and rage behind that loathsome exterior, but he refuses to show you that.
There was just a big group of characters, but they were all easily their own person. Parijahan and Rashid are Malachiasz's travel companions, and they become friends with Nadya. I ADORE them. Rashid is funny and comforting, and Parijahan has a sharp intelligence that hides so much that I want to know. There's also Kacper (my baby) and Ostiya and Zeneta, Tranavians who are some of Serefin's closest confidantes. The only people he can trust, tbh. I'm a bit sorry to say I paid more attention the main three (even though Malachiasz doesn't have a POV, but I never said I wasn't biased, I am just saying here).
I shipped Nadya and Malachiasz so damned much omg. Their banter and intensity and hate-to-possibly-love was just *chef's kiss* It was slow burn, but not slow burn. It was a lot of back-and-forth anger and calling each other names and generally stating how much they despise one another while also freaking out if the other's in trouble. *whispers* my jam. And if I'm not mistaken, I think Serefin and Kacper are in love??? Listen, I want this ship, and it better fucking set sail in book two! Anyway, since there are so many characters you can basically ship them all together, and that's really the best thing about it.
jk there's more, the book is so immersive without adding too much information too fast, and the author weaves in the elements of the worlds effortlessly. I loved the little paragraphs at the beginnings of the chapters, the stories about the saints and the gods. And there are religious tones to the story, but it takes those and twists them and reminds you that things are far more complicated than just right or wrong. I was also really happy Emily has a pronunciation guide on her website because that helped SO much. (I kept having to look at it every few pages because I'd forget how the names went, but shhhh).
DON'T EVEN GET ME STARTED ON THAT ENDING. EMILY DUNCAN WHAT HAVE YOU DONE. I'M STILL IN SOME SHOCK EVEN THOUGH I PROBABLY SHOULD HAVE SEEN THAT COMING. omg what a sharp move to shake the very foundations of what usually happens and go for the throat. There is nothing I love more than being thrown around like that, even if it's k i l l i n g me. It's kind of how I felt about
The Wicked King
, to be honest. I want more books that see your absolute adoration and
raise you total devastation in the form of characters who have no qualms about going after their own twisted ambitions
.
You can buy the book

here

, and you can find a pronunciation guide on Emily's website! And trust me, you WANT this story. :D
About the Author:
EMILY A. DUNCAN works as a youth services librarian. She received a Master's degree in library science from Kent State University, which mostly taught her how to find obscure Slavic folklore texts through interlibrary loan systems. When not reading or writing, she enjoys playing copious amounts of video games and dungeons and dragons. Wicked Saints is her first book. She lives in Ohio.
SOCIAL LINKS: